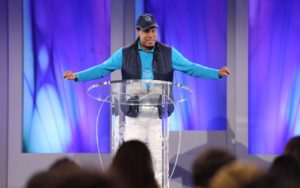 The 2017 2nd Annual Rhapsody Online Prayer Conference will happen on November 3rd, 2017 starting at 6 p.m. and will go a full 24 (twenty-four) hours. It is one of the most successful international online prayer events. It will be a platform for the communal readings from the Rhapsody of Realities: Devotional Bible King James Version https://rhapsodyofrealities.org/index.php/en/ and religious prayer. The purpose of the conference is to make a positive impact on the world that touches people lives directly. The event will be live-streamed on YouTube at the following link: https://www.youtube.com/watch?v=WJ1blhLbwhY.
Rhapsody of Realities
The Rhapsody of Realities is a devotional Bible that has been created by Anita Oyakhilome and Chris Oyakhilome (Pastor Chris). This bible is annotated to be a life-guide that encompasses impactful teachings from the Word of God. There are several million copies distributed all over the world and is colloquially known as the "Messenger Angel". This devotional bible is intended to support a person's spiritual development and growth. In reading this devotional bible, your understanding and faith will be refreshed. You will be better positioned daily to experience victory and success as you are transformed. The Rhapsody of Realities can be downloaded as a mobile app at both the Apple and Android Store.
The Rhapsody of Realities is vital to the prayer conference as it has been instrumental in gracing those that engage with the book with dedications. Many have testified that their lives have been deeply positively affected as they have discovered God's favor. Some have experienced financial blessings and through their confessions of the word of God, they have received medical miracles. This event will be monumental as it allows those who love the word of God to form a global community online during the prayer conference and elevate the world.
Power of Prayer…
Read More